Cabin Rentals in BC - The Ultimate BC Getaway
Are you looking for the ultimate cabin getaway in British Columbia? Welcome to Beach Acres Resort. Our charming cabins are the perfect way to immerse yourself in the natural beauty and outdoor adventures that BC is famous for.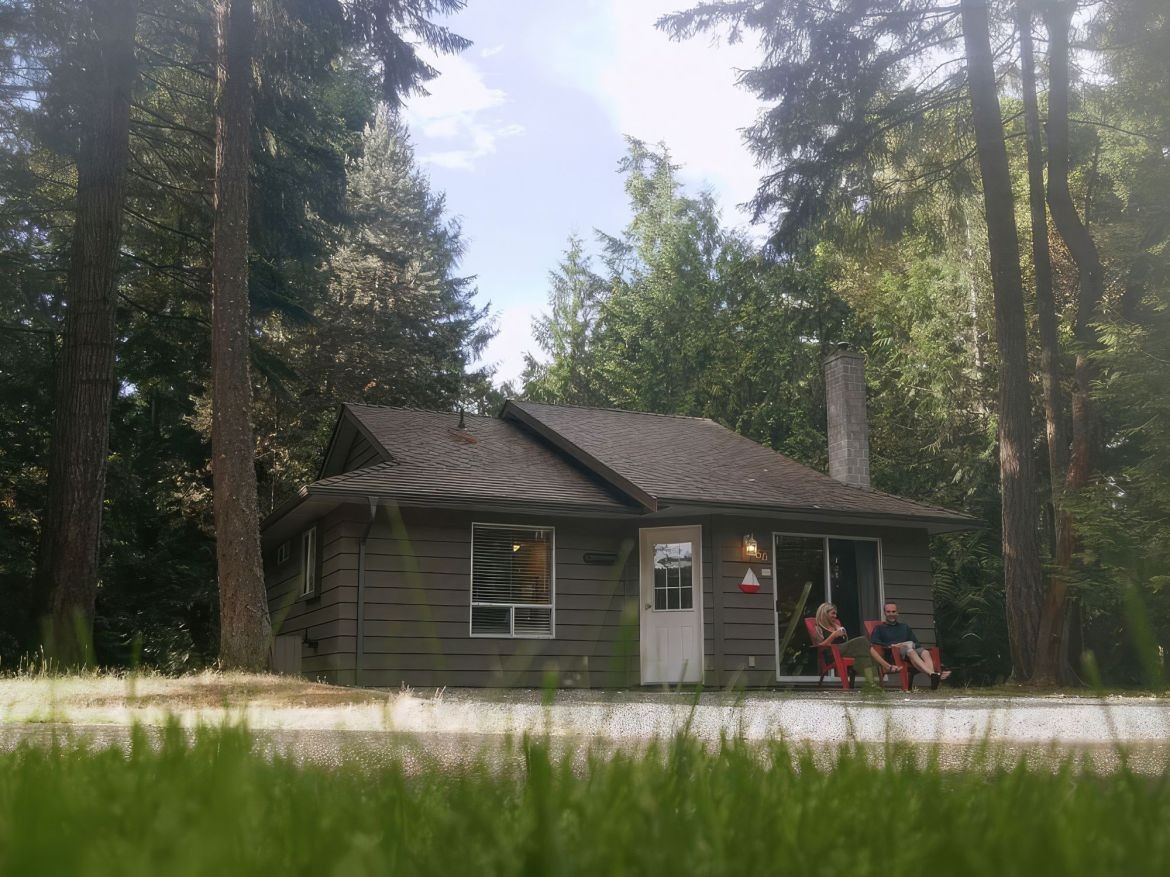 Unwind in the Comfort of Our Charming Cabins
From hiking in the mountains to kayaking in the ocean, there's no shortage of outdoor activities to enjoy in British Columbia. And when you're ready to relax and unwind, our cozy cabins offer all the comforts of home in a serene setting.
Our cabin rentals at Beach Acres Resort are designed with your comfort in mind. Each cabin features a fully-equipped kitchen, a comfortable living area with a fireplace, and a private patio or balcony. You'll also enjoy complimentary Wi-Fi and flat-screen TVs to keep you connected and entertained during your stay.
View Our Oceanfront & Forest Rentals
Comparison to Other Cabin Rentals in BC
When comparing cabin rentals in British Columbia, Beach Acres Resort stands out in several ways. Here are some key features that set us apart from other cabin rentals in the area:
More About Parksville, BC
Exceptional Amenities
Prime Location in Parksville, BC

Our resort is situated just steps away from Rathtrevor Beach, making it an ideal spot for beachcombing, swimming, and other water activities. Plus, the town of Parksville itself is home to a wide variety of shops, restaurants, and attractions, making it a convenient home base for your BC adventures.



More about Parksville, BC

Located on the east coast of Vancouver Island, Parksville is a charming seaside town that offers something for everyone. With its stunning natural beauty, including miles of sandy beaches, crystal-clear waters, and lush forests, Parksville is the perfect destination for outdoor enthusiasts. Whether you're looking to go hiking, fishing, kayaking, or simply relax on the beach, Parksville has it all. Plus, with its friendly community, fantastic restaurants, and unique shops, there's never a shortage of things to see and do in this beautiful BC town. Parksville also serves as a convenient home base for exploring other popular destinations on Vancouver Island, such as Tofino, Victoria, and Nanaimo, making it an ideal starting point for your BC adventure.

Exceptional Amentities

Our idyllic cabins come equipped with all the comforts of home, including fully-equipped kitchens, private patios, and complimentary Wi-Fi. Additionally, our resort features a heated indoor pool, hot-tub, tennis and pickleball courts, and an on-site restaurant.

Personalized Service

At Beach Acres Resort, we pride ourselves on providing exceptional customer service. Our friendly staff is always available to answer your questions and help you plan your perfect BC vacation. We can provide recommendations on the best hiking trails, book activities, and make sure your stay is as comfortable and enjoyable as possible.
Overall, Beach Acres Resort offers a one-of-a-kind cabin rental experience in British Columbia. With our prime location, exceptional amenities, and personalized service, we're the perfect choice for your next BC getaway.
Tips for Planning Your Cabin Getaway
Planning a cabin rental getaway can be a fun and exciting experience, but it can also be overwhelming if you don't know where to start. Here are some tips to help you plan the perfect cabin rental vacation in British Columbia:
Pack Appropriately
Choose the Right Cabin

When selecting a cabin rental, consider your group size, desired location, and preferred amenities. For example, if you're travelling with a large group, you'll likely need a cabin with multiple bedrooms and bathrooms. If you're looking for a secluded retreat, consider a cabin that's tucked away in the woods, like our Forest cottages.

Research Local Attractions

Once you've booked your cabin rental, start researching local attractions and activities. Look for nearby hiking trails, waterfalls, lakes, and other outdoor activities. Also, check out local events, festivals, and attractions to add some variety to your itinerary.

Check out our Local Attractions page or visit our blog for more inspiration on what to do in Parksville!

Pack Appropriately

Make sure to pack appropriate clothing and gear for your cabin rental vacation. Consider the season and the activities you have planned when packing. For example, if you're planning to go hiking, make sure to bring sturdy shoes, a backpack, and plenty of water.

Consider Meal Options

When booking a cabin rental, consider whether you'll be cooking your own meals or eating out. If you plan to cook, your fully-equipped kitchen will make it a cinch to cook up a great meal, and if you need a special baking pan, we have a lending cupboard where you can borrow a variety of wares. Alternatively, research local restaurants and cafes for dining options.

Our resort also houses the historic Black Goose Innm a great English-style licensed restaurant. Parksville itself is home to a myriad of local farms, cheese-works, wineries and more. If you're interested in hitting some local spots, check out this blog post detailing our favourite breakfast places in Parksville!

Relax and Unwind

Finally, remember that the whole point of a cabin rental vacation is to relax and unwind. Don't over-schedule your days and make time for downtime to enjoy your cozy cabin and the natural beauty of British Columbia.
Book Your Perfect BC Getaway Today!
If you're looking for the ultimate cabin rental experience in British Columbia, look no further than Beach Acres Resort. With our comfortable cabins, prime location, and exceptional customer service, we're the perfect choice for your next BC adventure. Book your stay today and discover the beauty and charm of cabin rentals in BC!
---
More Beach Acres Stories