Visiting China Bowls
We are thrilled to unveil a hidden gem nestled just a short distance away from our coastal retreat - the awe-inspiring China Bowls in Cumberland! This unique geological formation offers an unforgettable outdoor adventure for nature enthusiasts, hikers, and thrill-seekers alike. Join us as we delve into the world of China Bowls and discover why it should be on everyone's Vancouver Island bucket list.
Discover China Bowls (Cumberland Potholes)
Prepare to be amazed as you embark on a journey to Cumberland's China Bowls. Also known as Cumberland Potholes or Perseverance Pothole, these stunning rock formations are the result of centuries of erosion, creating a series of deep, bowl-shaped depressions within the forested landscape. The bowls themselves resemble giant teacups formed by swirling currents from the receding glaciers, leaving behind an otherworldly sight that is simply breathtaking.
Accessing China Bowls
To reach China Bowls, start by taking highway 19A from Beach Acres Resort to the charming town of Cumberland. From there, parking can be found at the corner where Sutton Road becomes Comox Lake Road. If this area is too busy, ample parking is available at the Cumberland Recreation Center. Once parked, take a stroll down Sutton Road until you reach the entrance gate of Cumberland Forest Area. By proceeding around the gate, you can then turn right at the first intersection onto Davis Lake Main. Ascend the hill and continue along the main road until you reach the first bridge. This bridge offers access to Perseverance Creek potholes from either side.
While getting to the potholes, it's essential to keep an eye out for mountain bikers and occasional logging trucks, ensuring a safe and pleasant experience for everyone.
Check out
AllTrails
for more information about getting to the potholes.
Enjoy the Trail
The potholes are about a 2-kilometre walk from the parking area. The well-maintained trail offers moderate difficulty, ensuring that both seasoned hikers and beginners can enjoy the journey. Be sure to bring sturdy footwear, plenty of water, and snacks for a truly enjoyable experience.

Unforgettable Views and Photography Opportunities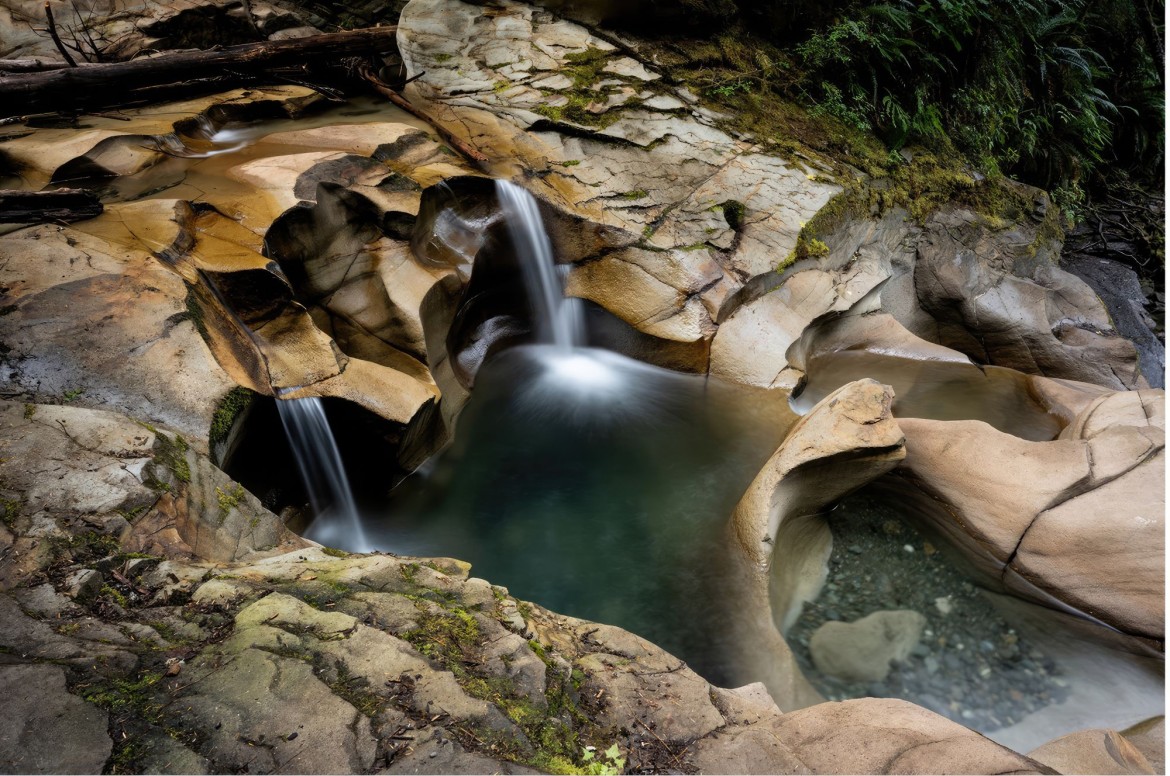 Location and Access
Once you arrive at China Bowls, you'll be rewarded with unparalleled views that are perfect for photography enthusiasts. The natural amphitheater-like landscape allows for stunning panoramic shots, capturing the serene beauty of this hidden gem. Whether you're an avid photographer or simply enjoy preserving memorable moments, China Bowls will leave you with a treasure trove of striking photos.
Unwind and Recharge
After your adventure, return to Beach Acres Resort to relax and rejuvenate. Nestled amidst peaceful surroundings and right on Rathtrevor Beach, our resort offers comfortable accommodations, modern amenities, and a host of recreational activities. Take a dip in our heated pool, stroll along the beach, or indulge in delicious cuisine at our onsite restaurant, ensuring a well-deserved rest after an adventurous day.
China Bowls is an extraordinary natural wonder that should not be missed during your stay at
Beach Acres Resort
. The breathtaking beauty of these geological formations makes for an unforgettable experience. Whether you are seeking outdoor adventure or simply looking to appreciate nature's wonders, China Bowls will leave an indelible mark in your heart and memories. Plan your visit today and immerse yourself in the charm of this hidden gem on Vancouver Island!
---
More Beach Acres Stories