Your Cozy Parksville Escape in Autumn
Vancouver Island is world-renowned for its natural beauty, and from the months of September through November, the lush green foliage is transformed with dazzling bursts of golds and reds. While daytimes in the Parksville area are often still warm and sunny, the cooler nighttime and morning fogs of Vancouver Island take tent-camping off the table for most people, who instead turn to the cozy comfort of cabins and vacation rentals.
In this article, we'll explore why autumn is the best time to visit the forested beachside
Beach Acres Resort
, just outside of the charming town of Parksville, BC.
3 Reasons You'll fall in love with Fall at Beach Acres
Here are the top 3 reasons guests love staying at Beach Acres during the shoulder season:

1. Watching the Leaves Change in a Forest Cabin

If you feel like taking a stroll through our gorgeous woodland property and enjoying the outdoor amenities, old-grown forests and on-site beach, there's plenty to do and see at our resort… but if you're in the mood for a cozy inside day, we've got you covered. Whether you want to throw on a layer and take in the scenery on your personal porch, or gaze at nature through the picture windows while warm in bed, the natural beauty of our acreage at the edge of Rathtrevor Provincial Park infuses every moment with the splendor of fall - even from inside the privacy of your cabin.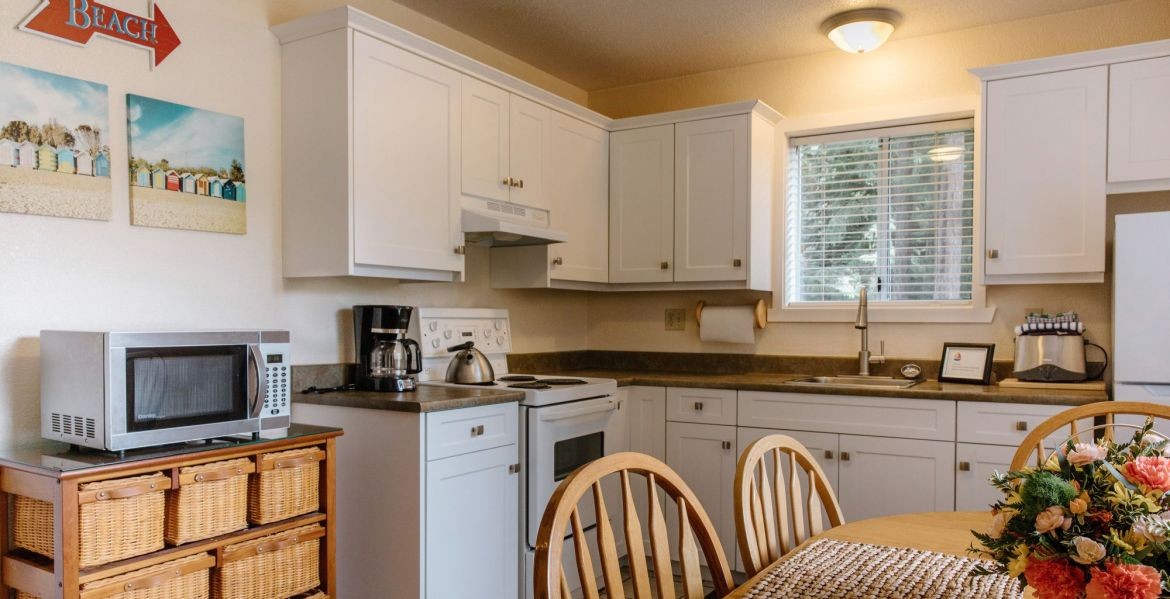 2. Fall Comfort Cooking in Our Fully Equipped Kitchens.
We know that fall is Foodie's best friend. Whether just you're craving a warm pumpkin-spiced drink or need a comfortable place to prepare an elaborate Thanksgiving meal for the whole family, our cabins and townhomes offer the ease and livability of a home away from home. Whether your cooking needs require a full grill barbeque, an oven, or even just a coffee machine and microwave, our cabin kitchens have everything you could need to cook up the ultimate fall comfort food.

3. Exploring the Parksville Area Without the Crowds.
While Beach Acres Resort is the perfect launchpad for any Vancouver Island adventure, during the summer, crowds of visitors to the Parksville area can lead to wait times at desirable destinations. In the fall, many of Vancouver Island's favourite spots - like Coombs Country Market or Tiger Lily Farms - are still in full swing, but during the shoulder season they are less congested, making it much easier to explore at your own pace and snap the perfect pictures. Even dining at one of Parksville's delicious restaurants is a much more relaxed experience, as it's much easier to find a table for you and your party. Wherever your Parksville trip takes you, visiting during the fall means you can experience the best of Vancouver Island, with more color and less crowds.
Book your Fall Vacation Rental at Beach Acres
During the fall, visitors to Parksville get to see a side of Vancouver Island that they've never seen before, and a stay at Beach Acres Resort means that all of the gifts of Fall are experienced in full living colour.
If you'd like to learn more about visiting Beach Acres during the Fall shoulder season, feel free to
contact
our helpful front desk today, or book now to reserve your vacation rental.
---
More Beach Acres Stories